Ruby for Absolute Beginners with Dessy Daskalov
@llcodedotcom
#ladieslearningcode
website
facebook page
reserve your ticket
Centre for Social Innovation - Annex
720 Bathurst Street (Bloor & Bathurst) Lower Level

Toronto

,

Ontario

M5S 2R4
Saturday, March 31, 2012 from 10:00 AM to 6:00 PM (ET)
Ladies learning code
We're a not-for-profit startup in Toronto who provide women (and men*) the opportunity to learn beginner-friendly computer programming and other technical skills in a social and collaborative wat. We're all about showing people that learning to hack can be fun!
*Men are welcome to attend workshops (and they do!), but we request that you bring with you an additional female learner where possible.
Special thanks to the

Centre for Social Innovation

for providing the venue. We'd also like to thank our sponsor,

Konrad Group

, for their generous support of this workshop.
@konradgroup
Why Ruby?
Note that this workshop requires you to have absolutely no experience with programming. Beginners, this one's for you!
For this workshop, we say good bye to the web browser and hello to our computer, literally. Ruby is one of the many languages your computer understands and that you can use to speak to it, but is known for being more elegant and natural compared to other languages. Ruby doesn't need semi-colons, preventing those annoying errors that seem to happen for no reason, and requires fewer lines of code to accomplish the same things as other languages.
In this workshop, you will learn how to speak to your computer and tell it to do things for you. We will be re-creating popular word and math games, and also tell you what this "Ruby on Rails" thing is that you keep hearing about.
At the end of the workshop, the following code will make perfect sense to you:
Workshop.new(
:topic => 'Ruby',
:location => 'The_Centre_for_Social_Innovation',
:is_awesome => true)
Your Lead Instructor: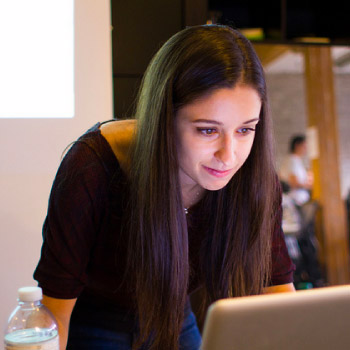 Dessy Daskalov |

@dess_e
Why did you get involved in Ladies Learning Code?
"I love what I do every day, and I want to make sure others have the same opportunity. Coding shouldn't be a scary thing, and anyone that has a desire to get involved should be able to, without any fear. I want to see people new to the topic get really excited about it."
The Ladies Learning Code Ruby for Absolute Beginners workshop is designed to be a hands-on experience. During the session, you will:
basic programming techniques and concepts that are translatable to other programming languages

overall information on Ruby as a programming language

how to speak to your computer in Ruby and return various values

how to re-create popular math and word games using Ruby

what resources are available if you'd like to continue learning at home (and we think you will)
Is this workshop for you?
This workshop has been designed for absolute beginners. If you know absolutely nothing about coding or computer programming, you've come to the right place! Our only expectation is that you know how to open up a web browser and do something online like checking your email. (But if you're reading this, we're pretty sure you know how to do that.)
Requirements:
You must own or have access to a laptop with wi-fi for which you have administrative permissions. Workshops are taught in English.
Please be sure to bring your powercord.
Also, if you can bring a travel mug to the workshop, that would be great! We're trying to make our workshops more eco-friendly.
*Are you quaified to help teach this workshop?
Great - our workshops absolutely wouldn't be possible without the
incredible
developers who help us out! Please
join our 'tech help' email list here
.
What's Included?
Approximately a 4:1 student-to-instructor ratio

A fun and inclusive learning envionment

A great venue (

The Centre for Social Innovation

)

Catered lunch and snacks
Questions?
Email us at info@ladieslearningcode.com
What participants say about our workshops:
"Honestly, the set up of one instructor - four students is brilliant."
"I'm super impressed with the organizers and participants, and I think it's a really valuable initiative."
"[The best part of the workshop was] the positivity, helpfulness and eagerness to learn/teach of every person in the room."
"After years of teaching myself how to code, I wasn't sure how I'd find the collaborative experience of an LLC workshop - but it completely exceeded my expectations. The lead instructor was clear and thorough, and the volunteer instructors were always ready to throw new challenges at us the moment they saw we'd completed the current task. Solving a coding problem has always been exciting for me, but having a group of people equally excited about it was amazing!"
"[My favourite part was] the casual nature of things, and the fact that all the instructors walked around and helped out learners everywhere around the room - so I got to meet and talk to a bunch of people who were experienced and gain some perspectives. The food was great too. ;)"